Hall Hire
Main Hall
We have a large hall – 11.7m by 8.4m with basketball hoops at each end. Maximum capacity is 50 people.
There is a small room accessed from the main hall. It is used for chair, table and mat storage. We have 50 chairs and 8 tables available for use.
Kitchen
The kitchen is accessed from the entrance hall. It also has hatch access from the main hall. There is a kettle, microwave and electric cooker and various plates, cups and glasses. This is available for use during hall hire.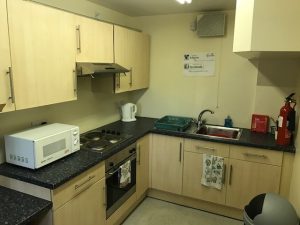 Parking
Please note that Quality Street Lane should not be used to drop-off or pick-up. Please park in Corbiehill Crescent and walk to the Scout Hall on foot. There is strictly one parking space outside the hall for the person who booked the hall.
Hire Charges
One-off lets are charged at £35 per hour. We allow 30mins either side of the let for set up and tidy up.
Regular lets are charged at £20 per hour. We allow 15 mins either side of the let for set up and tidy up.
Booking
To book the hall, please visit this google form to start the request process. (Make a request using the Google form here).
Alternatively, you can email 30thhallbookings@gmail.com with all your relevant details and we will be in touch.
Download the information sheet here.
FAQ
How do I get the keys?

There is a keypad by the front door for accessing the keys, the code will be sent to you a few days before your booking.

Can we bring an entertainer?

Yes

Can we use a bouncy castle?

Yes, the sizes of the hall are on the website. The large slide bouncy castles however are too tall for the space.

Is the setup and pack down time in addition to the payment?

Yes, if you book for one hour, the setup and pack down will be added half an hour each side so the booking will be 2 hours in total.

Is the hall free on a weekday evening?

Only on a Friday. The hall is used by Scouts Monday to Thursday night.